Discover more from Not out, but through!
A collaboration between a geek, a mystic and a malcontent, all of whom happen to be me.
A couple weeks ago, I got back from hiking the Beacons Way, a 100-mile trail across Bannau Brycheiniog / The Brecon Beacons. I was aiming to complete it in 6.5 days, whilst carrying everything I need to camp out on my back.
These are some scattered reflections from the trip. They are a week or so late on account of illness, the nature of which will become clear by the end of this post.
p.s. You might need to open this post in your browser to see all the pictures. Click the title above.
---
Day 1 wouldn't be a full day, as I couldn't set off until near midday. After a dry, warm week, the rain was torrential as I crossed the bridge. After some unremarkable meandering out of Abergavenny, the rain came down again, but I was gracefully sheltered in the woods at the base of Skirrid Mountain. After the first big ascent, the Sun made an appearance.
Whilst crossing fields on the descent, I saw about 30 goldfinches on a fence having an extremely animated conference, the most I've ever seen at once.
Good weather held out for the ascent up Hatteral Hill, an area of special scientific interest due to the wildlife present. It was a beautiful climb, and I didn't see another person. Instead, I kept company with hundreds of meadow pipits, horses, sheep and rabbits.
I was nervous camping out on night 1 but found somewhere reasonably flat amongst the heather. I learned that "Grouse butts" on a map means that grouse will occasionally rocket out of the ground making a lot of noise when you least expect it.
I ate and settled in the tent, only to slap myself in panic as several crane flies crawled over my face. From then on, I got better at zipping up when I had the headtorch on. It rained a little in the night, but just light mountain mist.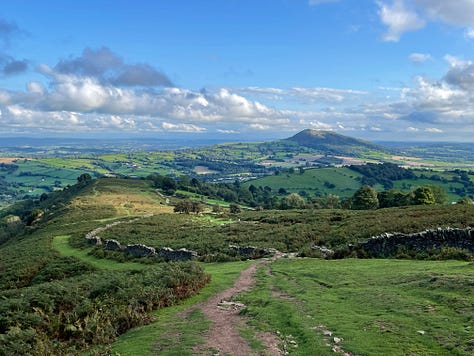 Thanks for reading Not out, but through!! Subscribe for free to receive new posts and support my work.
Day 2 started with a stunning morning walking Hatterall Ridge with the Olchon Valley and Longtown to the right, and Llanthony to the left. The blankets of heather were golden and the meadow pipits were in full song. If I were a meadow pipit I'd live here.
It took twice as long to descend as I couldn't stop gawking at the views and IDing birds with Merlin. I also stopped to make tea from a stream on the way down, which felt like pure magic. ("I" in this case being my Platypus water filter, Pocket Rocket stove, tea bag, powdered whole milk and titanium cup. But we did it.)
After passing the Priory ruins, I headed for what was supposed to be a cafe in Llanthony. It looked derelict. I asked some mischievous locals about it and they laughed, assuring me that there was a burger van just around the corner.
Out of Llanthony, I climbed Bal Bach—a steep, rocky climb, in full heat of the day. On the other side of the mountain, I saw goldcrests for the first time, making the tiniest of peeps.
The day ended at Table Mountain, where I saw more people than I had in the last 36 hours. It was a better camp tonight, with some cover from wind, and an easterly mountain view for sunrise. As I lay in the tent reading, I was serenaded by church bell practice from a village below. At 1am I got to see the stars in full display as I wee'd off the side of a mountain in my long johns.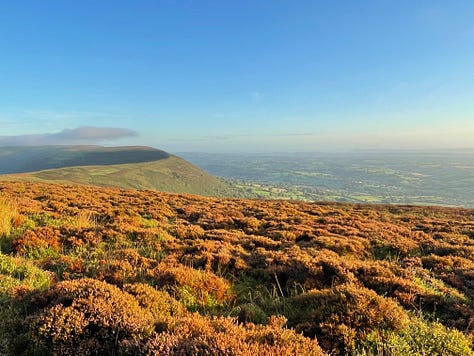 I started Day 3 slow, learning to take things a bit easier and not get caught up a war march. This is not a training drill. It's a little wet but still T-shirt weather.
I ventured into Crickhowell for a cooked breakfast and to resupply. Sitting inside a cafe, I realise I've never felt this conscious about my aroma before. (I'm reminded of it each time I slip into my sleeping bag; the whooshing air delivering a full body bouquet.)
I borrowed some toilet roll from the cafe. Last night I got caught short and had to wipe my ass with my guides face (a picture of his face, not his actual human face), which I didn't feel great about. This morning, I'm in a clean warm indoor toilet and of course don't need to go. Let's save that for the side of a dark, wet mountain.
I got overexcited in the camping store by the veritable buffet of meal en pouch and bought a lot of food, forgetting that food is heavy. I went looking for Mr. Tom bars, as they travel well and I love peanuts. Instead, I found Nutty Crunch, Mr. Tom's ripped cousin. Nearly 500 cals and 3 ingredients: peanuts, sugar and glucose syrup (...sugar). You need iron teeth to get through one but it's worth it. A good balance for energy: fat from peanuts and carbs from sugar. And 13g protein per bar which is more than most "protein flapjacks" these days.
My usual 13kg was likely nearer 15kg as I left Crickhowell, fully loaded with food and water. I am greeted with immediate inclines and a climb past Table Mountain which looks down and laughs. My belly is happy and my feet are angry. I'm starting to feel tightness in my quads from descents but it is the feet where 90% of the ache is felt. Hence the orgasmic relief of removing boots at the end of the day.
In my head, this was an easier day. The guide listed no summits. This wasn't a lie, but there were still two big climbs that narrowly avoided summits. I push on, knowing what's at the end of the day: a room and shower at a bunkhouse I'd pre-booked.
Later, there is a lot of wandering through overgrown bracken, skirting the edge of Pen Cerrig-calch. It feels very Jurassic, just birds and streams babbling and the occasional horse whinny. No people, no civilisation, and sometimes no view beyond the bracken. I fall out with bracken.
After a chicken tikka in a Cymdu churchyard, I push up the second climb, which is pretty boring. It passes through a beautiful farm with a friendly dog, and then a second farm that looks like it was abandoned to squatters several years ago.
The Sun always seemed to be in the next valley. Rain threatened all day but never really arrived. By the end, it was quite a slog. It felt like a bit of an in-between stage.
But I am rewarded at the end by having an entire bunkhouse to myself. It may as well be the Hilton. I have a vital shower and dinner at the pub. This feels like an incredible treat and just being inside and hearing people talking is magical.
The bunkhouse also has a washing machine and a dry room, which I get very excited about. After 3 days of hiking, using basic facilitates fills me with joy and appreciation: fresh water on tap, a kettle, clean clothes, and being able to walk around in pants—these all feel like luxuries. And they are. Periodically distancing yourself from everyday comforts is a good recipe for gratitude. You will enjoy those little things a whole lot more afterwards, with the added bonus of knowing that you can get by without them.
On the topic of luxuries, I eat a pie at the local pub for dinner.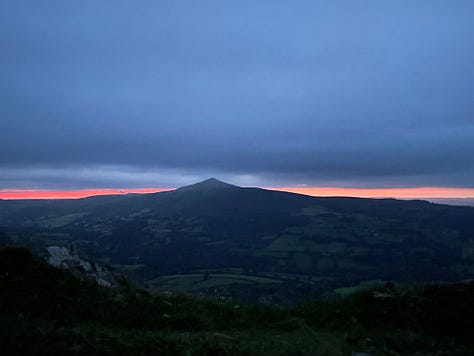 Despite being indoors, I don't have a brilliant sleep. The pressure of perfect conditions is a little much. I visit the dry room and put on dry clothes and a bone-dry bag. Day 4 is a big day, with the most vertical climb and covering all the Central Beacons, including Pen Y Fan.
After walking along a canal, I hike a long, slow ascent to a view over Talybont reservoir. This then joins a very long, boring path that leads into the Central Beacons. The Sun mercifully recedes for the ascent up, winding around waterfalls.
This is an interesting angle to approach the horseshoe—you really can't see the big mountains until quite late, and the reveal is magnificent. It's still relatively quiet. I have lunch on rocks, alone except for warbling skylarks, before pushing on through the big peaks and taking too many pictures of wild horses before the final lung-busting ascent up Pen Y Fan.
I felt exhausted at the top and realised I still needed to descend again to get to the lake where I was camping out. As I arrived at the lake, I realised I'd been beaten by two Scottish lads I'd met on Fan Y Big. There was also another hiker camped across the lake who later visited holding a joint that looked like it went out 30 years ago. The lake is full of fish and newts. I am lucky enough to find a spot 10 inches from the waters edge. I fall asleep to the sound of lapping water.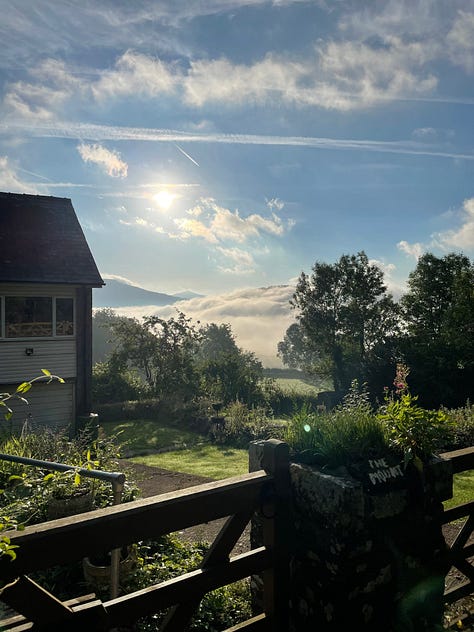 Day 5 is the beginning of the end, although I don't know it yet. It starts with a steep climb away from the lake to meet some friends who are hiking with me today. I am happy to have company and even though my legs are trashed, I don't notice it much between good conversation.
Mist rolls in for the morning and the mountains disappear and reappear. Visibility is 10 metres one minute, and then a mile the next. After the descent off of Fan Dringarth, we stopped for lunch under a bridge. Not long after we set off I felt weak and a bit sick. Over a couple of hours, my energy bottomed out and I felt I could lie down anywhere and sleep.
Following a death march to the finish of the day, we arrived at a claustrophobic pub full of screaming, drunk Welsh men watching the rugby. I could only stomach a few chips, despite the 2500 calories burned walking today.
An hour later I am hot, cold and shaking. I climb into the tent early, knowing I need a good sleep. But we're in a pub campsite, and we're not alone. My temperature climbs, alongside the noise of the other campers who stay up late drinking and chatting about 10ft away. I can't sleep through it. At one point I hear the sentence "I really like Jira, why don't you guys like Jira?" and feel the overwhelming urge to flush myself down the portaloo, which isn't possible because the portaloo doesn't fucking flush.
As the rain batters the tent, I'm feverish and lost in bizarre conversations with myself. At one point I spend a few minutes wondering "Am I glamorous enough?" At that moment, lying smelly and delirious in a tent, I feel the answer is a foregone conclusion. I also contemplate whether I could die happy having never visited South America. I decide I could, failing to recall that I'd already spent several months in Brazil.
Still awake at 3am, I cancel my 6am alarm. In the morning I still can't eat, so I call it and abandon the last 2 days. I get a taxi back to Abergavenny and drive home.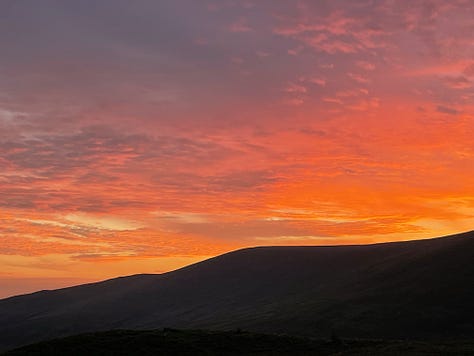 I loved my 5 days on the Beacons Way. It was a welcome adventure into the unknown and I was very lucky with the weather. While it's disappointing to have to cut it short, I did feel some gratitude to be under a blanket as the forecasted thunderstorms rolled across the Brecons. I'm not sure what caused the illness, whether dodgy food or dirty water, but it didn't matter in the end. It took another 4 days to be able to eat normally.
This trip has given me the taste for more, and I still have all of North Wales and Scotland to explore in future trips. I love being around mountains and I'm starting to wonder more about training as a Mountain Leader…